OmniAnalytics - D365 Edition
OmniAnalytics - D365 Edition
Empower Finance, Operations, Sales, and Procurement with the most extensive suite of Power BI dashboards for Dynamics 365 available.
With Microsoft's on-going investment in Dynamics, they now offer the best cloud ERP and CRM suite on the market. OmniData has created a next-generation analytics platform to go with it.
Over forty dashboards and reports are available out of the box.  More importantly, OmniData architected OmniAnalytics D365 on a fully extensible Azure based Modern Data Warehouse.  This makes installation, training, support, and customization a snap.
Finally, your organization can stand up an end-to-end Analytics environment, accessible to all, with relevance to the things that make your organization unique.

Your Million Dollar Head Start on Next Generation Analytics for Dynamics
What is OmniAnalytics - D365?
To help our customers see their business from end to end more clearly, OmniData has developed a comprehensive analytics and reporting system for D365. OmniAnalytics D365 is a turnkey, 100% Azure, next generation Analytics environment for your enterprise.
 Learn More About OmniAnalytics D365
OmniAnalytics - D365 Edition Feature Overview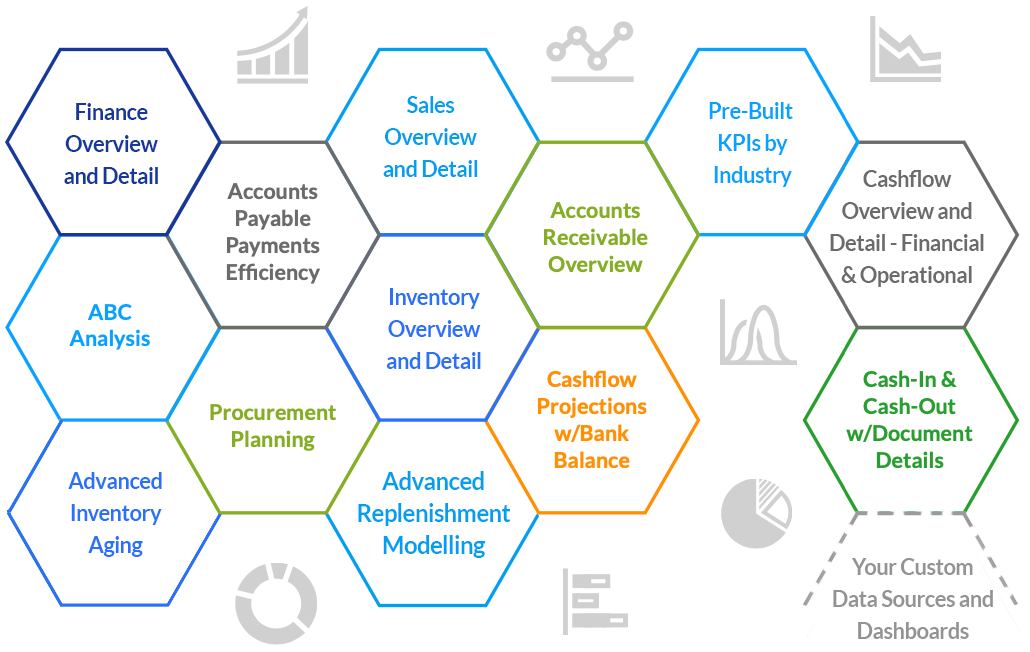 What You Get with OmniAnalytics D365
Next Gen Analytics and Reporting
You already know that analytics separates competitive organizations from the also-rans.  You also know that the investment can be steep.  Tailoring an enterprise-wide analytics program can be tough, just to get started.  To operate it, and customize it can be frought with technical risk.  These are the reasons we offer OmniAnalytics D365.
A fully rendered BI program day one, based on your core ERP data.
Lowest cloud operating costs
Fastest response
Most agile scalability
Lowest technolgy risk
Full advantage of all Microsoft's on-going R&D investment
Simply customizable by your own staff, using Power BI
Immediate Insights, Commitment to Your Success.
You'll go from zero to warp speed upon installation.  We offer 100% remote installation and service, using our RAD methodology.  That means you are up and running in as little as one day.  Once installed, OmniData is fully committed to your on-going success.
All training is Microsoft certified, provided by OmniData.
We're commited to your self-sufficience.
Add on our managed services offerings to save you more than 70% FTE costs
Customization of dashboards and reports is easy for Power BI trained staff
Open framework based on Azure offerings allows for customization using your unique additional data sources.
Save Millions on Next-Gen Analytics, On-going
We're committed to asset based consulting.  In this case OmniAnalytics D365 is the asset.  Beginning week one, powerful analytics dashboards are available to you and your staff.  You  decide, using all Microsoft technology, how to govern the information and access to it.  When you want to customize a dashboard, simply use Power BI skills to discover insights unique to your business.
From Zero to Infinity w/ Pre-built Assets 
Represents decades of analytics and reporting experience for 100s of Dynamics installations
Your company's ERP is the hub of your most important data
Adding your other data sources begins after installation and training, not the third year.
The result is an end to end analytics program for your organization.
How Many ERP systems come with next generation Analytics and Reporting?
Adding OmniAnalytics to D365 creates Analytics Excellence
OmniAnalytics D365 uses your D365 data to provide sophisticated Business Intelligence to your whole organization.  Most ERP systems are heavy on relevant data.  However, they tend to offer only the most basic of reports.  Furthermore, the reports are usually very specific, with no inter-relationships, visualizations or advanced insights.  With OmniAnalytics D365, the provided Power BI dashboards offer insights from complex data inter-relationships.  For example, combining Sales data with AP and AR helps you predict future cash availability.  Our structured data warehouse and underlying data architecture represents our experience with 100s of Dynamics clients just like you.  So now if you're a D365 user, you can get the most sophisticated Analytics and Reporting available.  Just ask OmniData.
Benefits of the OmniAnalytics Solution - Summary 
End to end view of your business with next generation analytics (Power BI)
Never worry about upgrade support and technical debt again
Readily scalable
Lower operating cost
Standardized operations
Fastest time to insight
Industry best cloud performance on massive data operations
Architecturally open to extend to all new data sources (beyond D365) unique to your business
Represents over 20 person years of experience with Dynamics Reporting, providing you that advantage day one.
Empowers your team to customize with simple Power BI training
Empowers your team with self-sufficient analytics and full business intelligence collaboration
Take a Deeper Technical Dive - Read the Whitepaper
Dynamics Analytics Excellence - Deep Dive Whitepaper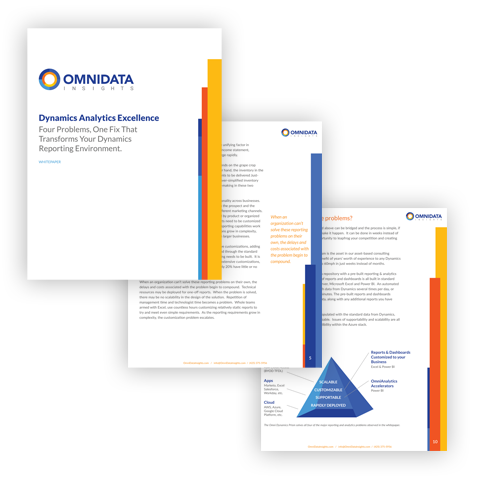 Most organizations face the same four common data problems.
OmniData's Dynamics Analytics Excellence whitepaper helps solve them.
One size fits all reporting
Reporting across multiple companies and sources
Complex data models
Accessing raw data from D365
Download the whitepaper "Four Problems, One Fix"
OmniData + Dynamics + Azure Synapse + Power BI = OmniAnalytics D365