Six Reasons Azure is Winning the Cloud Modernization Market
Forward thinking Enterprises are modernizing their information technology, while moving to the cloud.  Following are five reasons their best option for managing into a better future is Microsoft Azure.
Microsoft R&D Investment Strategy
Power BI Number One Next Gen Analytics Tool
End to End Enterprise Analytics Environment.
Single Vendor, Hybrid Friendly
Low Risk of Modernization Efforts.
Best Performance/Price.
R&D Investment Win Win For Supplier and Customer
In FY 2021, Microsoft invested over $20 Billion in R&D, second among software companies in the world.  By observation, it is not just the shear dollar amount, but how effectively Microsoft makes that investment.  Product releases with new, highly useful features are happening on a monthly basis.  For a company that is pitching "Limitless Scale" and "Limitless Performance", they are making headway to these goals at an astonishing pace.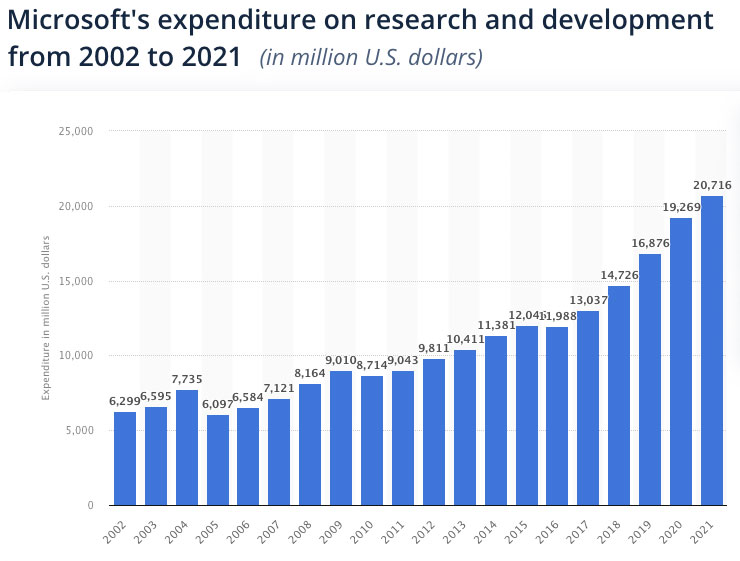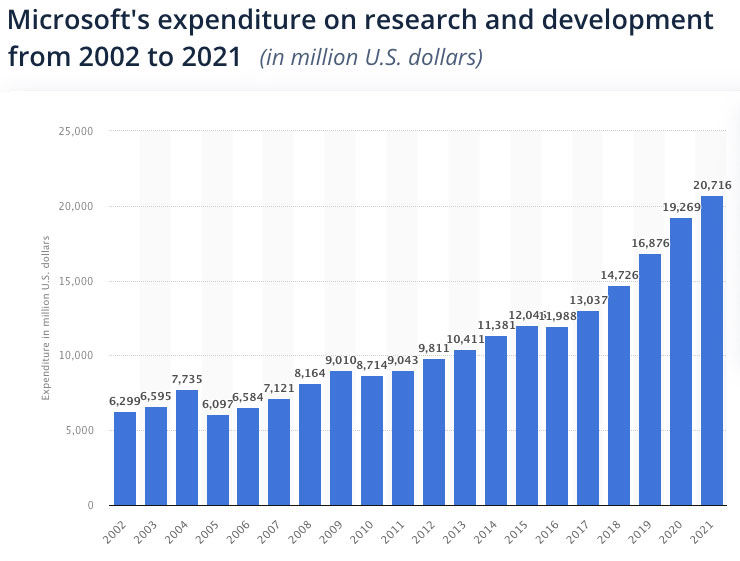 Example:  In 2016, Qlik and Tableau had spent twenty years establishing the use case and the market for next generation analytics tools.  These tools were stunning in their ability to handle unthinkable amounts of data.  In addition, the two companies had revolutionized data visualization and accessible data analytics.  Microsoft had noticed and made their entry into the market with Power BI.  Because of the feedback loop between customer need and Microsoft's R&D, Power BI, only 6 years later, dominates the market for next generation analytics tools.  Measured by install base it isn't even close.
How do they go from zero to dominant in 5 years?  They invest heavily, but more importantly, they are matching their product features perfectly to customer need.  The feedback loop from customer requirements to availability of important features shows in all other Microsoft Cloud offerings as well.  Cloud applications like D365 F&SCM, and all of the Azure infrastructure service such as Synapse and Azure AI are benefitting from Microsoft's speedy R&D efforts as well.
Power BI is second to none as an enterprise analytics tool
Gartner considers Power BI to be, by far, the leading business intelligence tool.
"Price/value combination: Power BI does not sacrifice quality to achieve its disruptively low pricing model. The Power BI cloud service is rich in its capabilities, which include an enlarged set of augmented analytics and automated ML (autoML) capabilities."  Gartner 2022
Power BI works at the edge of the Azure world inside enterprises.  Businesses that adopt Power BI gain a level of insight and data literacy that was unthought of only a few years ago.  But withing the world of Azure, Power BI appears to most of the enterprises as the tip of the iceberg.  Let's look at what is under this tip of the iceberg.
End to End Enterprise Analytics With Power BI facing the users
Power BI is what the users see.  However, it is all the other Azure services combined that add up to making Microsoft the number one solution source for Cloud Modernization.  The real challenge in wrangling an enterprises' data and creating an end to end Business Intelligence capability is rock solid Data Architecture.  In 2015, a flashy looking Tableau dashboard that combined a couple of disparate data sources harkened to exciting possibilities.  Finally, companies were starting to see their data in useful and exciting ways.  For the entire decade from 2010 to 2020, there was a great deal of excitement around the possibility of next generation analytics tools offering enterprises powerful competitive advantage.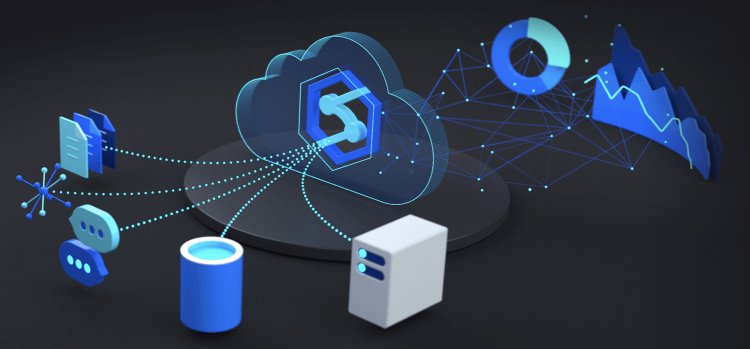 To IT veterans, there was a realization that disseminating integrated data wasn't going to be as easy as simply deploying a user facing BI tool.  Data integration and Data Architecture became the IT topic du jour, spawning a large opportunity for new solutions in this area.  Here again, Microsoft watched and waited a bit before committing Azure Synapse to market.  And yes, again, their fast R&D to customer need loop has moved Microsoft to the front of this foundational modernization market need.  The result today in 2022 is the most powerful end-to-end set of cloud services any one vendor has to offer.
Single Vendor, Hybrid Friendly
Microsoft dispels the common myth that using a single vendor for IT purposes creates organizational risk.  They do this by opening hundreds of doors to countless other cloud and on-premise solutions.  Recognizing that no customer could possibly modernize their IT infrastructure in one fell swoop, Microsoft allows for piecemeal access to its own fast moving modernized suite of offerings.  This allows organizations to create there own bespoke modernization plan, prioritizing unique needs using available budget.
Familiarity and Interoperability leads to far lower cost of any migration or modernization effort.  If your organization is already committed to Microsoft at even the O365 level, the entire set of Azure services is not only immediately accessible and interoperable, but highly recognizable and familiar to your users.
Lowest Risk For Modernization Efforts
People and their resistance to change are often a critical stumbling block.  With O365 being the de facto standard for office workers everywhere, your user's familiarity with Microsoft environment means a far lower risk of user rejection.
Leader in Performance to Price
Best of luck to Microsoft competitors.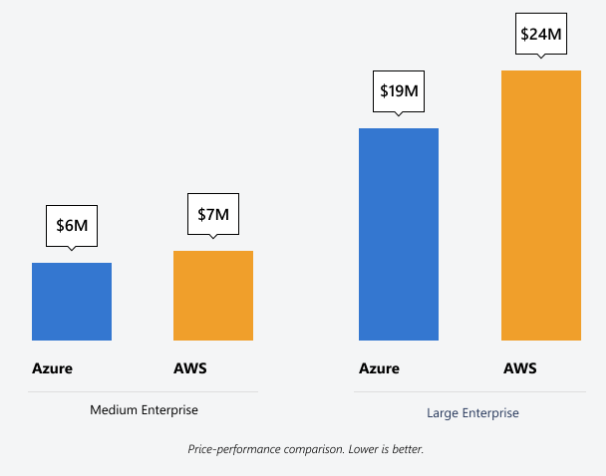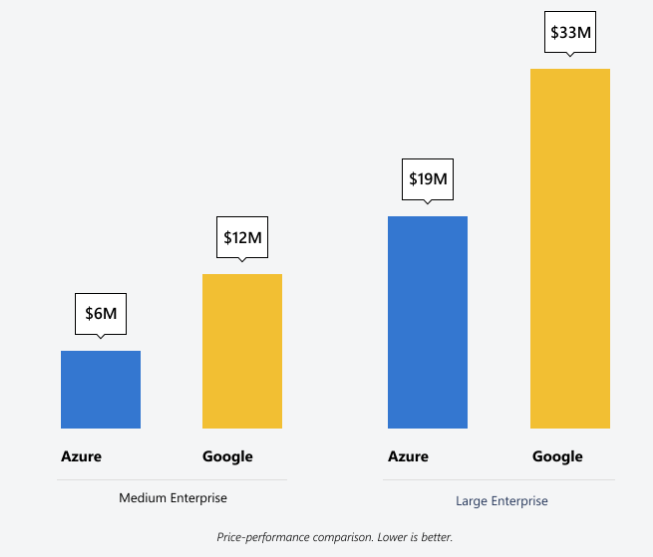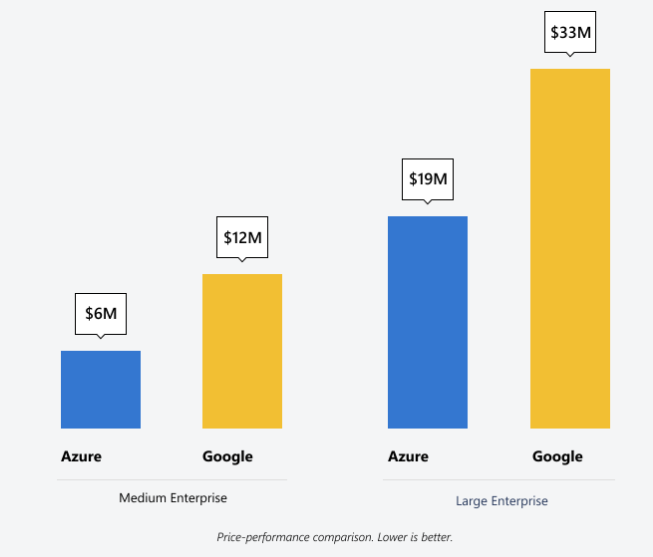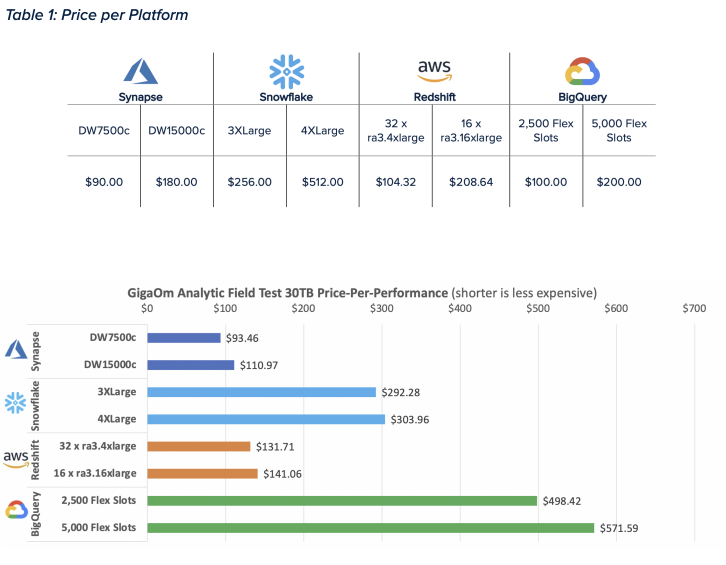 Source:  https://azure.microsoft.com/mediahandler/files/resourcefiles/cloud-analytics-platform-total-cost-of-ownership/Cloud%20Analytics%20Platform%20TCO%20-%20Gigaom.pdf