Dashboard in a Day Workshops Scheduled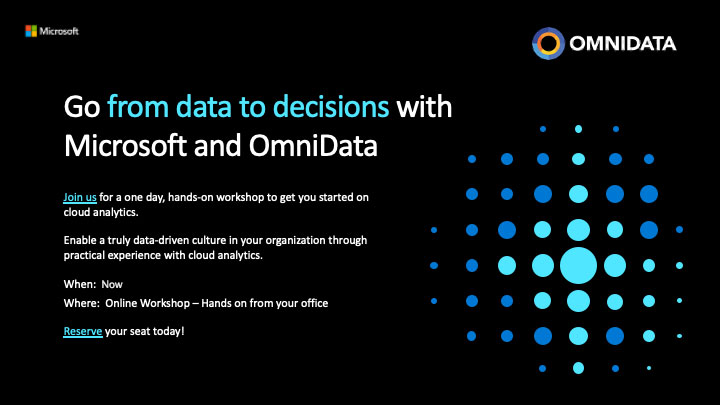 OmniData joins Microsoft in offering Free Dashboard in a Day Power BI Discovery Sessions
Tobias Eld, OmniData partner and Azure guru is certified for Microsoft's Dashboard in a Day Program. As a top Power BI expert, he will guide ambitious clients through best practices in Power BI. If you want management dashboards, Power BI is Microsoft's number one next generation business intelligence tool. If this is you, schedule to visit OmniData for this online class.
"This is an ideal session for clients seeking an overview of where PowerBI is now and where it will take your company in the future. You will come away with an understanding of the direction your business should take to build a BI program with PowerBI as the foundation," Mr Eld said. "We're excited we can provide this overview with the lab support of Microsoft."
Learn more about this terrific one day program now, click here.
What You'll Learn
Why participate?
At the end of the day, you will have learned more about:
Organize your structured and unstructured data for presentation of insightful visuals in Power BI
Define organizational KPI's to drive strategy
Expand on your org's KPI's with drill-down to detail instant insight
Generate reports using Power BI for top management or immediate performance feedback
About OmniData
OmniData provides products and services at every phase of the data lifecycle. When you need us, we are passionate about your success. We mine your hidden data assets and we will accelerate your time to data insights 10X. Curious? Schedule a complimentary data consult now.