Accelerate time to data insights by 10X

Today, Data proliferates at high rates.  Data is a key asset for organizations - it tells you where you have been, where you are, and increasingly suggests paths for where you go next.  Many enterprises are suffering because the quality of their data is not apparent or consistent.

At OmniData Insights, we specialized in simplifying complex data, and we work with your team to design and build a robust Data Estate for your organization.  We understand that curated data should be simple, and that access should be instant.  With our business experience and technical proficiency we make success with data possible.

Faster Deployment – With an Azure Data Architecture you can deploy an enterprise-level production-ready solution faster – giving your organization instant access to Data.
Cloud Deployment goes hand in hand with a plan for the Enterprise Data Estate. We can guide you through both.
With more than a decade's worth of experience building analytics solutions for Dynamics, we know what you will need to be successful with your Data Architecture when one of your primary sources of data is Dynamics or D365.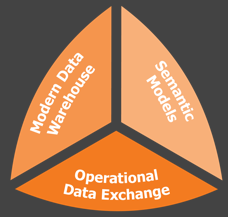 Discovery Hub® provides data automation and capabilities for data access, modeling and compliance.  DIscovery Hub® deliverscohesive data fabric across Microsoft on-premise technology and Azure Data Services for anlytics and AI.